South Wales self-storage firm Easystore has chosen science discovery centre Techniquest as its charity of the year.
The partnership has already supported Techniquest throughout its 30th anniversary year with landmark events and promotions aimed at furthering engagement with young people.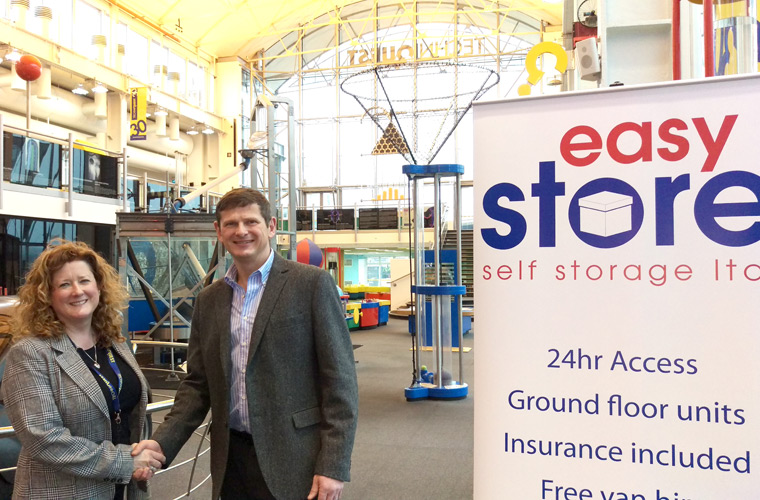 Brendan Connies-Laing, Director of Easystore, spoke of the link-up with the Cardiff-Bay attraction: "Every year we look to support local charitable causes, but this is the first time we have chosen an official charity of the year. Techniquest shares strong values with our ethos of learning and we are extremely proud to support the promotion of STEM (science, technology, engineering and maths) to schoolchildren and young people."
Clare James, Fundraising Manager at Techniquest, said: "We're absolutely delighted that Easystore Self-Storage has chosen us as their charity of the year. Our schools' programme reaches thousands of children in some of the most disadvantaged areas of Cardiff and Bridgend to make sure those children who are unable to come into our science discovery centre are able to benefit from our exciting, inspiring educational programmes."
Lesley Kirkpatrick, CEO at Techniquest, said: "We are thrilled to be Easystore's charity of the year. Brendan originally became familiar with us after attending an Admiral After Hours event, and has been a great supporter of ours ever since. This year, he has already provided us with essential funding for our 30th anniversary.
"We're looking forward to working alongside another great company that values STEM education throughout our communities."
Easystore Self-Storage was established in 2002 and developed its first facility in Cardiff the following year with the Bridgend facility opening in 2009. Previously, Mr Connies-Laing gained experience working within the self-storage industry in the USA and recognised the importance of access, control systems and in improving the self-storage customer experience.
"Most facets of our business comes from STEM learning; from the way we secure our premises to the manner in which we operate 24/7 access. Our business could not exist without the necessary technology and engineering required, so it is paramount that we invest in those academic disciplines by supporting charities such as Techniquest."
Easystore has several unique qualities that sets it apart from other self-storage companies. They offer exclusively ground floor units, insurance, VAT and 24 hour access in one simple price and they also bill customers on a monthly basis; as opposed to every 28 days. Customers also have free access to the Easystore company van so that it's easy for them to transport their possessions to and from the units.